Our School Program, "Exploring the Lighthouse" has won one of INTO's Awards of Excellence.  Below is the News Release that was issued on March 31, 2019.
"EXPLORING THE LIGHTHOUSE" SCHOOL PROGRAM WINS INTERNATIONAL AWARD OF EXCELLENCE
BERMUDA – A Sooke-based charitable program has won an international award of excellence.  For the past three years, the Sheringham Point Lighthouse Preservation Society has partnered with the National Trust for Land and Culture (BC) Society and Change Canada Consultants Ltd. (both based in Sooke/Victoria) to offer a program for local schools, called "Exploring the Lighthouse."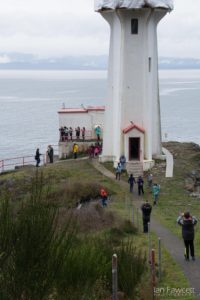 The school program, which was created by Ian Fawcett and Kathleen Arnason of NTLCBC, was announced as one of the winners of the "Award of Excellence" by the International National Trusts Organization (INTO) at its biennial conference in Bermuda on March 31.  The awards program was open to National Trust organizations from around the world, including the National Trust in the United Kingdom (the world's largest conservation organization), the National Trust for Historic Preservation in the US, National Trusts in Australia, across Europe, East Asia, Africa and the Caribbean.  The "Exploring the Lighthouse" program shared the award with a National Trust organization from China.
Students in Grades 4 and 5 at John Muir Elementary School and Sooke Elementary School have participated in the program for the past two years, and a third group from the two schools will be participating over the next few weeks.
"Our purpose with this program," Fawcett said, "is to help inspire children to be more connected to the world around them.  We want to encourage them to explore and appreciate their own heritage, to strengthen the bonds with their own community, to learn more about its history, and how that history has helped shape their own lives."
Arnason added "We also want to enable them to use their creativity and imagination to reflect those experiences, build on them, and pass on what they have learned to others."
The program involves a short classroom presentation on what Lighthouses are all about, and how they work, and a brief history of the Sheringham Point Lighthouse.  The students then visit the Lighthouse where they are free to explore both the structures and the surrounding environment.  Each student is provided with a camera to record what captures his/her attention and imagination.  Also, the students learn about the power of storytelling and how to write compelling stories, in an on-site workshop session developed and delivered by Arnason (a Canadian best-selling children's author).
Back in the classroom, the children select their favourite photograph and, over the next couple of weeks, write a story (factual or fictional) reflecting what they have seen and learned and imagined.  The selected photographs and completed stories are then compiled into an on-line book for each class, commemorating their Lighthouse adventure.
"On behalf of the Board and volunteers at the Sheringham Point Lighthouse Preservation Society, I want to say how delighted and proud we are to be a part of this program," said John Walls, Vice-President of SPLPS.  "As the restoration of the Lighthouse is nearing completion, we are now concentrating more on how we engage the public in learning about and celebrating this important icon in our community.  The "Exploring the Lighthouse" program goes a long way to building community understanding and support for our endeavours.  We continue to work with our partners to find ongoing funding for this program so that we can make sure it is offered for many years to come."