PROJECTS & ACTIVITIES
Check back to this page regularly to keep up-to-date on the projects and activities that the National Trust is getting involved with.

ORGANIZATIONAL DEVELOPMENT
Most of our work at the moment, in these early days of the organization revolves around the necessary building blocks to establish an organization.  A constitutional and legal framework, operating systems such as financial controls and membership application procedures, marketing and communications tools such as this website, and other basics are taking much of our time and energy.  Progress however, is being made as the pieces are beginning to fall into place and we look forward to moving on to more outreach and more conservation work.  For more details of these activities, please click here, or see our "News & Updates" page.
In parallel with this initiative to establish the National Trust for Land and Culture (BC), we are also working to establish a national framework for a National Trust for Canada.  To view our progress in that regard, please visit:  http://ntlc.ca/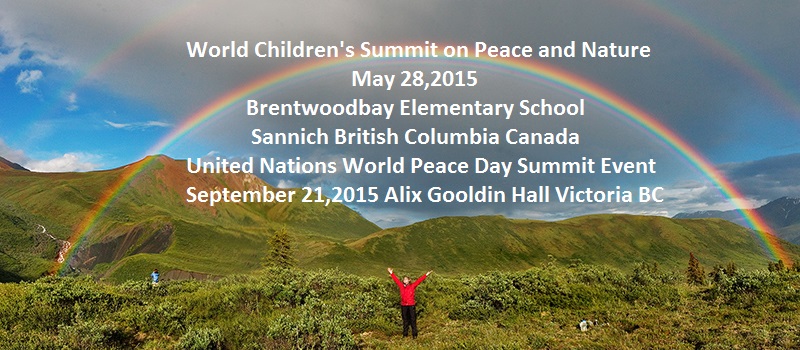 Please Help
Please help The World Children's Summit by donating Aeroplan Miles. The Summit Project which is being sponsored by The National Trust for Land and Culture BC needs 50,000 miles to bring in our Keynote Speakers. Thank you in advance for your donation! Please go to the link below to donate your miles.
AREOPLAN DONATIONS
ABOUT THE SUMMIT
"Children Take Peace Into Their Own Hands"
THE WORLD CHILDREN'S SUMMIT ON PEACE AND NATURE- Chairperson Kathleen Arnason
"Children Take Peace Into Their Own Hands" – is a concept Principal Shelly Hardcastle of Brentwood Elementary School understood immediately when she was approached to participate in The World Children's Summit Workshops. The Workshops which will be presented at the school May 28th are based on personal peace practices – tools children can use to help bring calm and understanding to their lives along with choices based on action rather than reaction. In 2011 400 children across Canada were interviewed on video and asked where they went to feel peaceful- 80% said they went to Nature the remaining 20% divided their time between books, writing, singing, dancing, playing a sport or spending time with family. We all know personal peace is the seed of world peace. However for now The World Children's Summit and the students of Brentwood Elementary will learn how sharing stories is the best and most memorable form of communication.- how movement and contemplation can help bring calm and help solve problems – how music can lift your soul even when you are sad and how photography can create the link to show us how we are part of nature and not separate from it.
Brentwood Elementary in their pursuit to support their students have become the Model for other schools in Canada and the World to establish their own Summit and use of personal peace tools. Empathy and Kindness are at the root of the practices and our motto is " Be Kind and Courageous" – Kind to yourself and others and Courageous to be yourself! Yes, The Children of Brentwood Elementary are Taking Peace Into Their Own Hands and in doing so become Ambassadors of Kindness, Courage and Peace for British Columbia and Canada. ( the children we are working with are ages 7-10)
 SAVE THE DATE SEPTEMBER 21 UNITED NATIONS WORLD PEACE DAY 
World Children's Summit on Peace and Nature World Peace Day Event
September 21,2015- Alix Goolden Hall
Celebrate with us as the children come together and perform music, stories, photography and movement on stage along with some of the most interesting Keynote Speakers you will ever hear.
Details will be announced closer to the date.
For more details about this conference please click here or go to the conference website at:  worldchildrenssummit.com
CONSERVATION PROJECTS
Members of the National Trust organizing team have had a number of consultations with individuals and groups who are concerned with the conservation of several specific properties that are currently at risk.  While we are not yet in a position to be addressing most of these conservation projects directly, we are continuing to keep a close watch on circumstances as they develop and will stay in contact with those involved.  For more details of these projects, as they progress, please check back to this page or to our "News & Updates" page.
Langley Farm Site Protected
The National Trust has assumed the lease on Black Dog Farm (formerly Nathan Creek Farm) in the Township of Langley.   Black Dog Farm operates a CSA program in partnership with KALE.    At the moment there are a few places open on their list.   Act fast to secure a place and do good while eating well.   For more information click here.